Fréjus, our Sister City
Fréjus (pop. 53,000) lies on the Mediterranean between Nice and St. Tropez. A popular destination for summer tourists, the city has sandy beaches for swimmers and boarders, and several marinas. At the heart of the city, a medieval cathedral and ancient stone structures echo Fréjus' historic past, now adapted to house boutiques, artist ateliers, restaurants, official City offices, as well as businesses and professional bureaus.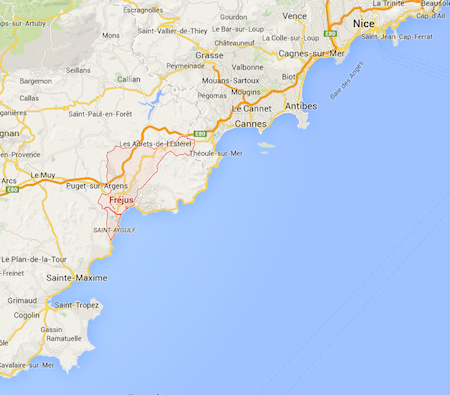 Founded as a Roman port city, Fréjus headquartered Roman naval operations. Named Forum Julii (Julius Market), it was linked to the Roman Empire by the Adrian Way, a Roman road that led from Italy to Spain. After the fall of Rome, the harbor eventually silted up, and the later medieval town was constructed atop a hill. Numerous invasions have assaulted the city, from Muslims to pirates. Napoleon landed at Fréjus after his Egyptian campaign. In August 1944 Fréjus saw the debarkment of Allied Troops, and a monument honors these landings.
Notable historic sites include the Cathedral, the Roman Amphitheater, the Roman city gate, and the remains of a Roman aqueduct. Fréjus carefully preserves its past and also celebrates its present, hosting several annual fetes including a pottery festival and a well-known mountain cycling competition, Roc Azure.
Numerous restaurants, a Provencal flair, and an active civic life add to the seaside city's ambience. The Sister City partnership between Fredericksburg and Fréjus was begun in 1980. Over 35 years, Fréjus and Fredericksburg have hosted thousands of exchanges, both for students and adults.